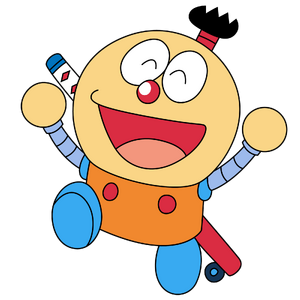 Kurosuke (コロ助) is one of the main protagonists of the Kiteretsu Daihyakka series. He is a robot created by Kiteretsu and can speak, behave and has emotions like normal human beings. He carries a small sword with him and usually ends his sentence with ~nari, in the Japanese version.He his shown to be a naive and extremly stupid character.He helps Kiterestu in his invention even though most of his invention fail because of him.He is known to be bullied by Kumada and Tongari,Inspite of various drawbacks in him he is got a heart of gold and is willing to help anyone.He is also a bed-wetter and request Kiteretsu to keep it a secret. He shown to love croquettes.
Ad blocker interference detected!
Wikia is a free-to-use site that makes money from advertising. We have a modified experience for viewers using ad blockers

Wikia is not accessible if you've made further modifications. Remove the custom ad blocker rule(s) and the page will load as expected.